Staniel Cay, Exumas, Bahamas
Vacation Rentals, Family Island Atmosphere...
bahamaislandrentals.com
New Website for Island Rentals on Staniel Cay...accommodations, boats, golf carts...click HERE
View many photos of Staniel Cay, Exumas, Pipe Creek and Beyond by clicking on the titles below.



Vacation rentals and more information on this area of the Exumas is available by clicking on these titles.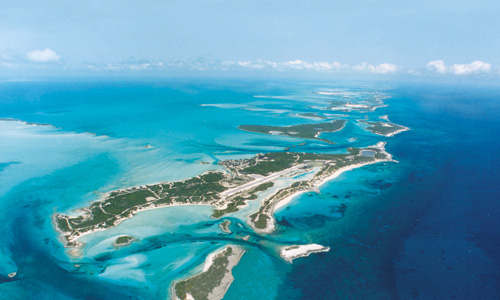 If the Exumas are a necklace of sparkling jewels, then Staniel Cay is the diamond pendant. The many islands, forming a chain stretching 100 miles southeast of Nassau, are flanked by Exuma Sound to the east providing deep water reefs and offshore fishing. The shallow banks to the west provide sea gardens, anchorages, shallow reefs and passages between the islands. There are beaches everywhere...if you find someone enjoying their privacy, go to the next one! The ocean beach at Staniel Cay stretches almost the entire length of the island, with reefs just offshore for great snorkeling.
There are 365 islands in the Exuma chain (one for each day of the year), with Staniel Cay in the center.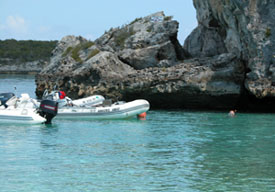 This small island is known for its hospitality and Thunderball Grotto, one of the most outstanding snorkeling attractions in all of the Bahamas. While this hollowed out rock has been the location for the James Bond movies Thunderball and Never Say Never Again and also Splash, it lures snorkelers to enjoy a natural fishbowl...swim in at slack low tide (when the current takes about an hour break from its normal fast run), and enjoy many varieties of colorful fish, corals, sponges and other sea life. Weave through the grotto's many entrances and passageways, escape to the outside through its holes. Gaze skyward when inside the amphitheater to see light streaming through the roof where rain has eroded natural skylights. Look but don't touch...Thunderball and the adjacent two islands are protected by the Bahamas National Trust.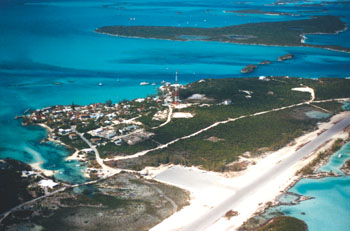 The Village of Staniel Cay has a friendly atmosphere unique to the Family Islands of the Bahamas. Everyone wishes one another well along the narrow roads where golf carts are the main mode of transportation. It's a true community where people care about one another. There is a church, clinic, some shops, groceries, a general store, marinas, yacht club and restaurants. There is an all-age school and telephone office, but no banks or ATMs...it's advisable to bring US cash or traveler's checks, although some places accept credit cards. There are several homes and cottages for rent, as well as laid-back resort facilities on the island and in the area.

Bahamas Fishing Regulations
Website © Martha Wohlford